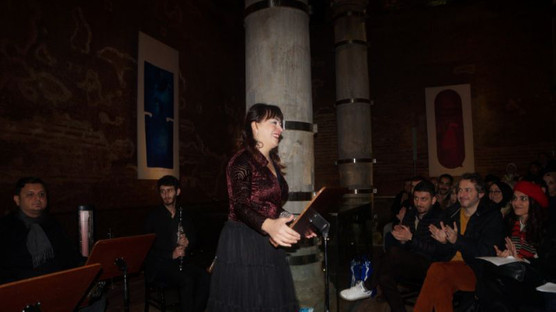 Music of İstanbul' at the Şerefiye Cistern
The "Chamber Music and Recital Series," organized by the Department of Culture, serving under the İstanbul Metropolitan Municipality, and the "Early Period and Baroque Concerts Series," organized by the IMM affiliate, the Culture Co., have started at the Şerefiye Cistern. The first performance in the year-long series took place on January 12. The concert featured Assoc. Prof. Dr. Mehtap Demir, an ethnomusicologist, rebab player and folk music singer, performing Turkish folk songs of the palace from the 16th century to the present day. The concert also included Ladino and Greek songs of İstanbul, as well as music inherited from the Sephardic and Greek traditions. The concert attracted music lovers, as it exposed the musical un.
FLUTE AND VIOLIN RECITA ON JANUARY 19
Continuing throughout the year, this concert series features outstanding works and compositions from the classical music world. On Saturday, January 19 at 6 pm, Aslıhan And and Tolga Kulak will have a concert titled "Journey from Baroque to Classical Music". A flute and violin recital will highlight pieces from Georg Philipp Telemann, Jean-Marie Leclair, Wilhelm Friedemann Bach, Carl Philipp Emanuel Bach and Franz Anton Hoffmeister. On Saturday, January 26 at 6 pm, the "Sufi Music Concert" will be performed, with the participation of Ms. Serap Çiftçi, a dancer and mezzo-soprano who has worked with the Antalya State Opera, performing Yunus Emre's works on divine love. You can enjoy the admission free classical music concerts on Saturdays. You can also visit the Şerefiye Cistern, which is among İstanbul's most remarkable historical and cultural treasures.